Guitar Lessons Stoke-on-Trent
Our guitar lessons Stoke-on-Trent (Fenton) are on a one-to-one basis to really let you get the most out of every note.   You will learn, different styles, techniques, concepts, timing, songs and develop your overall sense of musicality.
All Ages
We enrol students as young as 4 years old for guitar lessons Stoke-on-Trent!
Grades 1 - 8
Rockschool and Associated Board exams grades 1-8 (optional)
All Styles & Abilities
Guitar lessons in Stoke on Trent for beginners to advanced students covering all styles from Jazz to Rock and everything in between.
About Guitar Lessons at Staffordshire Music Hub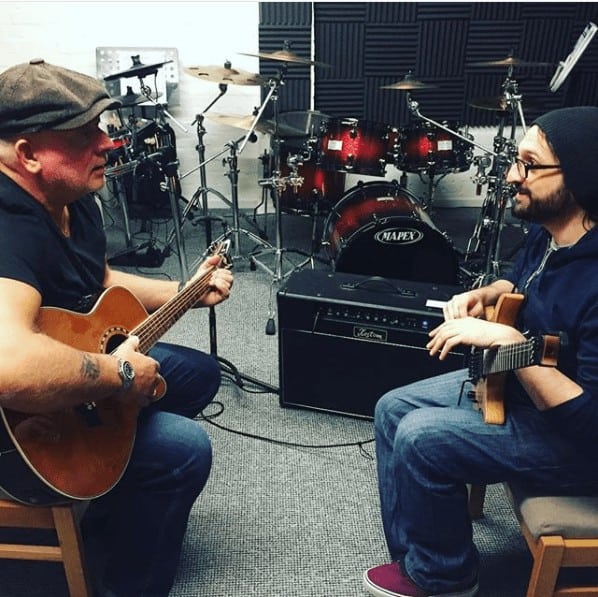 Guitar lessons in Stoke at Trent at Staffordshire Music Hub are tailored at all ages and abilities.
From beginners to pro-level players, our tutors excel at teaching aspiring guitarists from as young as 5 years of age to the tender age of 70. 
At Staffordshire Music Hub, our core syllabus is based on Rockschool grades 1-8, but with an extended repertoire and curriculum based on the extensive experience of our teaching staff.
WHAT'S SPECIAL ABOUT Staffordshire Music Hub?
We teach both rhythm and lead guitar covering many styles; blues, jazz, reggae, classical, rock, metal and many more, we also cover music theory, composition and improvisation techniques.
Our tutors are experienced tutors and musicians in their own right and deliver a service that's focused, fun and designed to accelerate your learning to it's fullest potential.
What Our Customers Are Saying
Don't just take it from us, let our customers do the talking!
"My daughter had her very first guitar lesson with Zaid. He was awesome with her. Instant connection and put her at total ease. She is quite shy. She came out of the lesson absolutely beaming and so enthusiastic"
"
Amazing guitar lesson with Zaid!
Really helpful and friendly guys. Highly recommend to anyone looking for lessons!
"
Great guitar lesson at this beautiful studio, great friendly encouraging atmosphere would recommend this place to any one wanting to explore music themselves and there instrument.
30 Minute Lessons
🔥First Lesson Half Price!🔥
Students can learn Guitar, Bass, Ukulele, Drums, Piano and Singing!
60 Minute Lessons
🔥First Lesson Half Price!🔥
60-minute lessons are ideal for those looking to really dig into mastering their instrument, or those who'd like to take little more time to absorb the information.

Students can learn Guitar, Bass, Ukulele, Piano, Singing and Drums!

Book today and receive 50% off your first lesson!
GUITAR LESSONS STOKE-ON-TRENT FAQ
DO YOU TEACH GRADES?
Yes we do!  We generally specialise in Rock School having passed hundreds of students.  We can also teach from any sylabus your choosing.
WHAT AGES DO YOU TEACH?
We've taught students from 4 to the 70 and over. Everyones welcome!
IS THERE PARKING?
Yes!  There's FREE on street parking directly outside our premises.
HOW LONG WILL IT TAKE ME TO LEARN TO PLAY THE GUITAR?
This question really needs to be assessed on an individual basis, as all students learn at different rates, have different goals etc. However, here are some loose estimates based on starting as a complete beginner:
Hobbyist level: 2-3 years
Semi-professional (performance) level: 4 to 5 years
Ultimately, (like anything) it's how hard you work as an individual.
I DON'T OWN A GUITAR, CAN YOU HELP ME GET ONE?
We pride ourselves on offering top notch advice on purchasing guitars and associated accessories, and are always happy to help!
READY FOR YOUR GUITAR LESSONS IN STOKE ON TRENT?
Book online today and get your first lessons half price